Your new do-everything indoor glasses
Block blue light in style
Ditch the headaches, fall asleep easier, reduce the glare and amp up the clarity. From watching TV, to working on a computer, to using a smartphone, these high quality lenses decrease eye strain without distorting the colors of the screens you're viewing. Wear them all day, every day.
Uncompromised Quality
We all spend time looking at screens. Protect your eyes from harmful blue light, and look good doing it. The products we carry are built with quality hinges that won't wear down and loosen over time. The frames are built with extremely durable plastic that's lighter than metal for a relaxed, weightless feel and the specially designed nose pads provide an unmatched level of comfort. Innovative and industry leading lenses block up to 90% of blue light without distorting the colors of the screen you're viewing, and are highly resistant to scratching. Browse a wide variety of color options to express your own sense of style.
Perfect for Programmers
A must-have for programmers, entrepreneurs, content creators, or anyone who spends time looking at screens. Gain the edge over others in your field with less headaches, better sleep, and better moods.
The Complete Package
Each pair of glasses comes with a free carry case and cleaning cloth. Take and wear your glasses anywhere and everywhere, and never compromise your eyes' health.
Free shipping, directly from the U.S.
Free of both cost and stress. upon ordering, an email will be sent to you containing your tracking information, so you'll never feel excluded from the delivery process.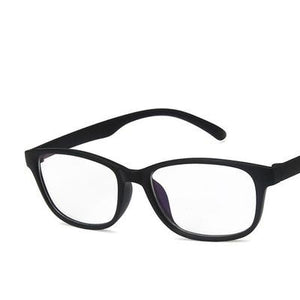 Classic Style
Sale price Price $18.00 Regular price $28.00 Unit price / per